Hello Guys My Name is Ayan From CBSEMeterials – Free CBSE Study Meterials and Today I am going to share Federalism Class 10 Notes For Free Which Helps you in Getting Good Marks in Class 10 Civics Chapter 2 Notes. You can also download Democracy and Diversity Class 10 Notes Pdf For Free of Cost. So without further ado, let's get to the Civics Class 10 Chapter 2 Notes
TOPIC-1
Gender and Politics
Quick Review
Gender inequality is a prevalent example of hierarchical social division.
The term "sexual division of labor" refers to the division of labor among individuals based on sex.
Casteism, gender inequity, and sectarian divisions all serve as strong indicators of how Indian society is divided on a social level.
In the past, men could only vote, participate in politics, and run for public office. Politics gradually began to address the gender issue.
Women organized and fought for equal rights throughout the world.
These protests called for increasing women's political and legal standing as well as their educational and employment possibilities.
Feminists can be either men or women who support equal rights and opportunity for both sexes.
The majority of women's movements strive for gender equality in both women's personal and familial lives. Feminist movements are what these movements are known as.
India still has a patriarchal society that is ruled by men.
Women experience disadvantage, prejudice, and oppression in a variety of ways, including being less literate, working as hard but occasionally earning less than males, having their sons raised by their parents more often, etc.
The percentage of women in the legislature in India has historically been quite low.
A equitable representation of women in the elected bodies has been mandated by law in India's Panchayati Raj in order to address this issue.
Women now hold one-third of the seats in local government organizations, including Panchayats and Municipalities.
One societal division that needs to be expressed in politics is the one based on gender.
Flowchart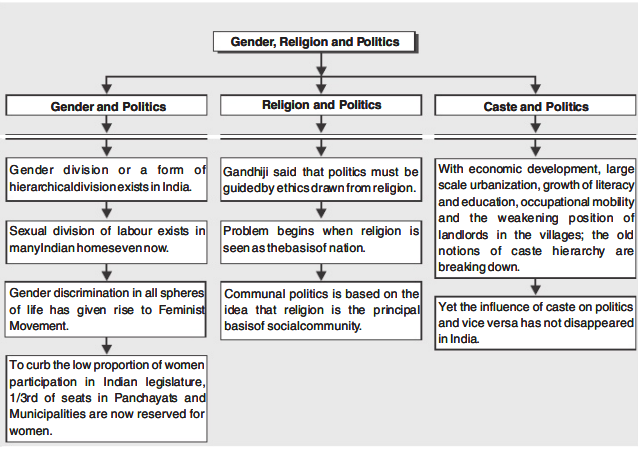 Important Terms of Gender Religion and Caste Class 10 Notes
Gender Division : It is a type of social separation based on hierarchy and stereotypes in society.
Sex Ratio : It is the ratio of females to males in a nation throughout a specific time period.
Communal Politics : Community politics refers to the political use of religion in which one religion is portrayed as being superior to all others.
Sexual Division of Labour : a system in which the ladies of the household either carry out all domestic work themselves or organize it through domestic servants.
Feminist : a person who favors granting all people the same opportunity and rights.
Patriarchy : a system in which the father serves as the family's head.
Stereotype : a commonly held perception or idea of a specific kind of person or thing that has become fixed.
Feminism : It is concerned with empowering women and ensuring that they have an equal place in society to males.
TOPIC-2
Religion, Communalism and Politics
Quick Review
The caste system, communalism, illiteracy, unemployment, and poverty are challenges for the Indian democracy.
Minorities are social groups in a society with a comparatively small population.
Communal representation is a system that creates separate electorates and representation for members of various communities.
Family laws are those that govern issues pertaining to families, such as marriage, divorce, and other related issues.
The two main religions in Sri Lanka and Nepal are Buddhism and Hinduism, respectively.
Political exploitation of religion is referred to as communal politics.
Politics may and perhaps should incorporate beliefs, ideas, and values from several religions.
As members of a religious community, people should be able to express their needs, interests, and demands in politics.
The fundamental tenet of communal politics is that religion serves as the cornerstone of social community.
In politics, communalism can take many different shapes :

Commonplace beliefs are where communalism is most frequently seen.
The desire for political domination within one's own religious community is frequently the result of a communal mindset.
Another common manifestation of communalism is political mobilization along religious lines.
Community violence, riots, and massacres are occasionally the most obscene manifestations of communalism.

There is no recognized state religion in a secular nation like India.
The Constitution guarantees every person and community the freedom to profess, practice, and spread any religion—or no religion at all. Among its attributes are:

Religion-based discrimination is forbidden by the Constitution.
In order to guarantee equality within religious communities, the Constitution also permits the state to get involved in religious concerns.
Flowchart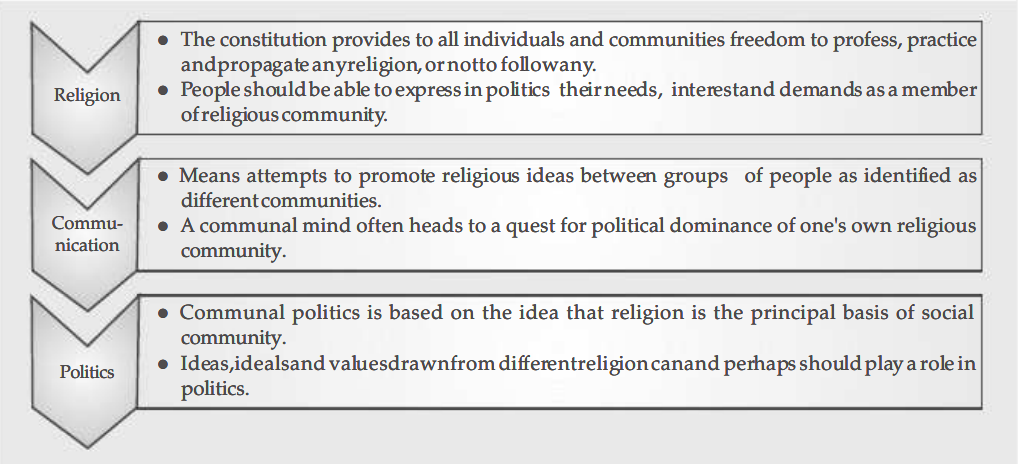 Important Terms of Gender Religion and Caste Class 10 Notes
Communalism : It refers to initiatives to spread religious doctrine among social groupings that have been designated by various societies.
Family Laws : In our nation, distinct family laws apply to adherents of different religions when it comes to family-related issues like marriage, divorce, adoption, inheritance, etc.
Literacy Rate : The literacy rate measures the proportion of educated citizens to the total population of a nation.
Prejudice : an irrational hate or preference, especially one that is based on the race, religion, sex, or other characteristics of a person, group, or habit.
Secular State : a country where there is no recognized religion. It accords all religions an equal standing.
Secularism : a conviction that religion shouldn't play a role in how society is run.
Urbanisation : population shift from rural to urban areas.
TOPIC-3
Caste and Politics
Quick Review
Casteism is a behavior that makes members of higher castes detest those of lower castes.
The foundation of the caste system was the prejudice and exclusion of the "outcaste" communities. They were made to suffer under the cruel custom of untouchability.
Gandhiji opposed becoming an untouchable.
The caste system in India was fought against by Jyotiba Phule, Dr. B.R. Ambedkar, Mahatma Gandhi, and Periyar Ramaswami Naicker.
The traditional ideas of caste hierarchy are disintegrating due to economic expansion, widespread urbanization, increases in literacy and education, job mobility, and the weakened status of landlords in rural areas.
The Indian Constitution forbade any kind of caste-based discrimination and established the framework for measures to undo the injustices of the caste system.
No parliamentary district in the nation is clearly dominated by a particular caste.
By integrating caste into the political sphere, politics also has an impact on caste identities and the caste system.
A number of political and non-political organizations have been clamoring for the elimination of caste-based discrimination, greater dignity, and increased access to land, resources, and opportunities.
Caste can draw attention away from more urgent problems including poverty, development, and corruption.
Caste division can occasionally cause tensions, disputes, and even violence.
Flowchart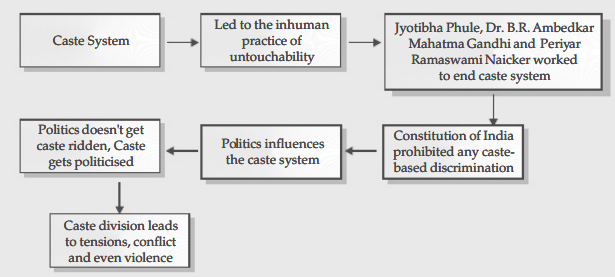 Important Terms Class 10 Civics Chapter 4 Notes
Urbanisation : population shift from rural to urban areas.
Casteism : The hereditary structure of social class, culture, endogamy, and occupation is known as casteism. It is often referred to as a class system that is based on birth.
Dalits : The Dalits, who belong to the Scheduled Castes (SCs), are well-known.
Adivasis : The STs are also referred to as Adivasis.
Caste Hierarchy : All caste groupings are arranged in a ladder-like structure, from the highest to the lowest.
Electorate : everyone who is qualified to cast a ballot in an election inside a nation or region.
Universal Adult Franchise : It indicates that everyone who is a citizen and is at least 18 years old has the right to vote.
Occupational Mobility : a change in occupation, typically when a new generation chooses a profession that was not performed by their predecessors.