Hello Guys My Name is Aman From CBSEMeterials – Free CBSE Study Meterials and Today I am going to share Sectors Of The Indian Economy Class 10 Notes For Free Which Helps you in Getting Good Marks in Class 10 Economics Chapter 2 Notes. You can also download Sectors Of The Indian Economy Class 10 Notes Pdf For Free of Cost. So without further ado, let's get to the Economics Class 10 Chapter 8 Notes.
TOPIC-1
Sectors of Economic Activities
Quick Review
Individuals work in a variety of economic sectors, creating commodities and services.
Economic activities can be classified in three sectors :

Primary Sector
Secondary Sector
Tertiary Sector

Though they are divided into three groups, economic activities are highly interrelated.
Many commodities and services are produced, as well as many people are employed, through the numerous production activities in the primary, secondary, and tertiary sectors.
The total production of a sector for a given year is determined by the value of the finished goods and services produced in each sector during that year.
The secondary and tertiary industries lack sufficient employment openings.
In particular, the agricultural industry employs more than half of the nation's workforce.
The total production of a sector for a given year is determined by the value of the finished goods and services produced in each sector during that year.
The Gross Domestic Product (GDP) of a nation is calculated as the sum of production in the three sectors.
Agriculture makes up just ¼of the GDP, while the secondary and tertiary sectors comprise ¾of the output.
The primary sector was replaced by the tertiary sector in 2003 as India's largest producing sector.
The tertiary sector is becoming very important in India due to several reasons:

The government is in charge of providing services including those at hospitals, schools, post offices, and telegraph companies, among others.
Agriculture and industry have advanced, too.
Finally, when wealth levels increase in large cities, some demographic groups begin to demand an increasing number of services, like dining out, travelling, shopping, using private hospitals, etc.
Fourth, during the course of the last ten years or more, a number of new services—such as those based on information and communication technology—have grown to be significant and necessary.

In India, the service industry employs a wide variety of individuals, including highly educated and skilled employees on the one hand and a very large number of workers providing services like small merchants, repairmen, transporters, etc. on the other hand.
Flowchart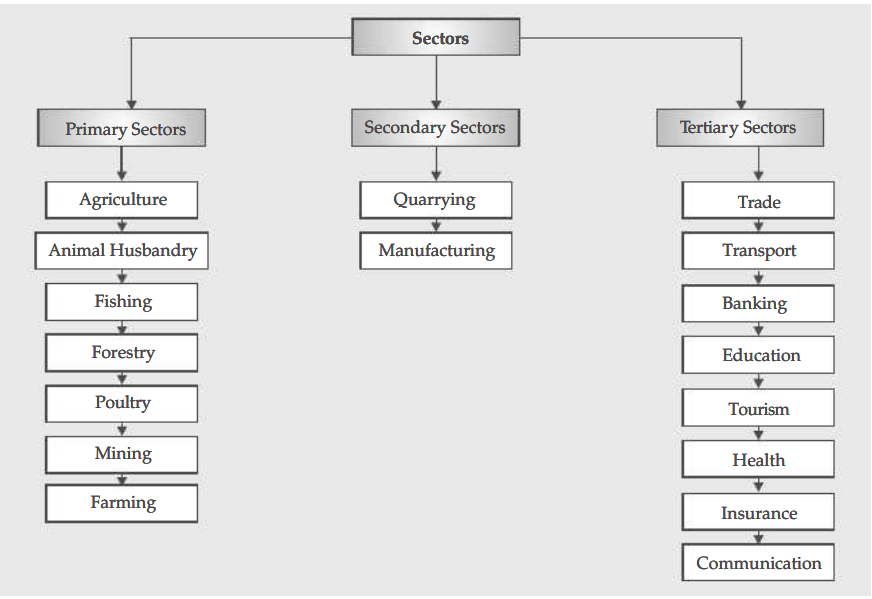 Important Terms
Primary Sector : It encompasses all commercial operations, such as farming, fishing, and mining, that are involved in the production and extraction of natural resources.
Secondary Sector : Any economic activities that are connected to the production process are included. For instance, mining for iron ore is a primary activity, while making steel is a secondary activity.
Tertiary Sector : It is the industry that is connected to operations like banking, insurance, and transportation.
Final Product : The products that are finished and ready for consumption are referred to as final products. For instance, bread is finished and ready for eating.
Intermediate : The phrase "intermediate goods" refers to any product that is used as a raw material for the creation of other products or that is sold again the same year. For instance, flour is an intermediate product since it is used to make bread.
G.D.P. (Gross Domestic Product) : It only includes the value of finished products made on a nation's domestic soil.
TOPIC-2 'How to Create more Employment?'
Quick Review
More individuals are working than are required, which is known as underemployment or disguised unemployment.
A nation like India may increase employment by constructing more dams and canals to supply farmers with water, offering more affordable credit options and crop insurance, investing more money in transportation and storage, technical training, and offering bank loans with lower interest rates.
According to a Planning Commission of India report, the education industry alone has the potential to generate close to 20 lakh employment.
The Central Government of our nation passed a legislation enacting the Right to Work in 200 districts, with a subsequent extension to an additional 130 districts. Act of 2005 Guaranteeing National Rural Employment (NREGA, 2005).
What are objectives of implementing MGNREGA
⦿ To provide rural residents with work options.
⦿ To improve the people's quality of life.
⦿ To put the right to work into action.
Flowchart
Important Terms
G.D.P. (Gross Domestic Product) : It only includes the value of finished products made on a nation's domestic soil.
Unemployment : Unemployment is the state a person is in when they are willing to work for the going rate of pay but are having trouble finding employment.
Seasonal Unemployment : The agriculture sector is where it is most common.
Disguised Unemployment : Hence, even if we fire a small number of workers, the manufacturing process won't be impacted; this is also known as underemployment.
MNREGA : Act of 2005 guaranteeing rural employment in honour of Mahatma Gandhi. All poor and jobless people will receive 100 days of guaranteed employment as a result. In the event that they are unable to do so, they would pay unemployment benefits.
TOPIC-3
Division of Sectors as Organized and Unorganized
Quick Review
On the basis of nature of economic activities, there are two types of sector :
Employees in the organised sector benefit from job security. They are only need to work a specific amount of hours.
Small, dispersed units that are mostly independent of the government's jurisdiction make up the unorganised sector. Here, jobs are frequently irregular and low-paying.
The unorganised sector in metropolitan areas mostly consists of small-scale industry employees, temporary workers in commerce, construction, and transportation, etc.
Jobs are not secure, employees are not given a fair pay, wages are poor, and workers are abused in unorganised sectors. Hence, there is a need to safeguard and assist the employees.
The bulk of employees in our nation who belong to scheduled castes, tribes, and disadvantaged groups labour in the unorganised sector.
On the basis of ownership, economic activities can be classified into two sectors :

Public Sector
Private Sector

In the public sector, such as the railways or post office, the government controls the majority of the assets and offers all the services.
Private people or businesses, such as Tata Iron and Steel Company Ltd (TISCO) or Reliance Industries Limited, own the assets and provide the services in the private sector (RIL). There are several tasks for which the government is primarily responsible. The government must invest money in these projects.
In India, one-fourth of all children are seriously sick and nearly half of them are malnourished.
The government must focus on issues like the accessibility of clean drinking water, low-income housing options, food and nutrition, etc.
The government is responsible for maintaining suitable educational facilities and offering high-quality instruction, particularly in the early grades.
Flowchart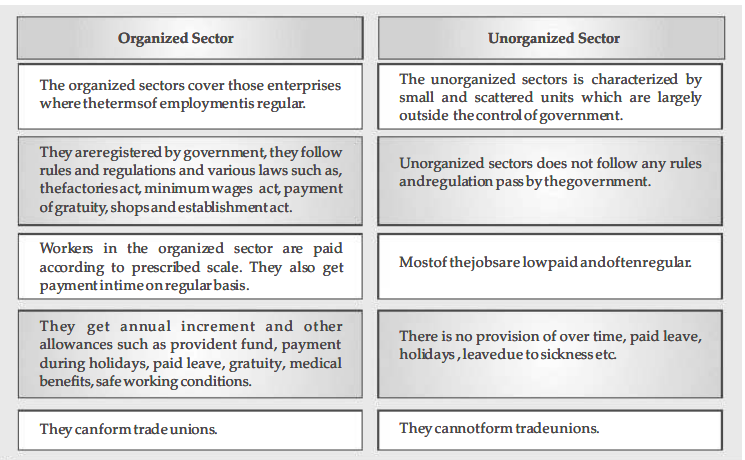 Important Terms
Organised sector : Individuals enjoy regular employment conditions and are guaranteed work. The government registers the rules and regulations that are outlined in numerous laws.
Unorganised sector : It is made up of sparse, tiny units that operate independently of the government. The employment are unstable and pay little.