Hello Guys My Name is Ayan From CBSEMeterials – Free CBSE Study Meterials and Today I am going to share The Age of Industrialization Class 10 Notes [Part 1] For Free and Which Helps you in Getting Good Marks in CBSE Class 10 History Chapter 4 Summary . You can also download The Age of Industrialization Class 10 Notes PDF For Free of Cost. So without further ado, let's get to the Class 10 Summary of The Age of Industrialization Class 10 Notes [Part 1]
Other Parts of The Age of Industrialization Class 10 Notes
Quick Review of The Age of Industrialization Class 10 Notes
In Bombay, the first cotton mill was built in 1854, and it began operating two years later.
Jute mills initially appeared in Bengal during this period, with the first one opening in 1855.
In the 1860s, the Kanpur Elgin Mill opened in northern India, and a year later Ahmedabad's first cotton mill opened.
As you noted in your book from the previous year, the British in India started selling opium to China in the late eighteenth century and bringing tea from China to England.
Dwarkanath Tagore established six joint-stock firms in the 1830s and 1840s before switching from industrial investment to the Bengali China trade, where he gained his money.
Parsis in Bombay who exported goods to China and shipped raw cotton to England amassed enormous industrial empires in India. Examples of these Parsis include Dinshaw Petit and Jamsetjee Nusserwanjee Tata.
Indian businesspeople were not permitted to join the chambers of commerce that the European merchant-industrialists had established.
There was a rise in the need for labour as factories grew. Peasants and craftsmen looking for work left the hamlet and migrated to the industrial hubs.
Since finding work was never easy, industrialists frequently used a jobber to find new personnel.
A jobber was a seasoned and reliable employee. He attracted people from his village, gave them jobs, assisted them in relocating to the city, and helped them financially during difficult times.
By purchasing property from the colonial administration at a discount, European Managing Agencies started tea and coffee plantations. They also made investments in mining, indigo, and jute.
Nationalists encouraged people to stop buying foreign clothing as the Swadeshi Movement gained traction.
Industrial organisations banded together to defend their shared interests, putting pressure on the government to raise tariff protection and make other concessions.
Because British mills were so busy making army uniforms during the First World War, India found itself with a sizable domestic market to serve.]
Indian manufacturers were relied upon to supply military necessities due to the protracted conflict, including jute bags, cloth for army uniforms, tents, leather boots, horse and mule saddles, and a variety of other things.
Britain's economy collapsed after the war because it was unable to modernise and compete with the US, Germany, and Japan.
Small scale industries were expanding throughout the rest of the country, while large industries were predominate in Bengal and Bombay.
Due to advancements in technology, weavers began employing looms with fly shuttles, which boosted output per worker, sped up production, and decreased the need for labour.
The Manchester entrepreneurs utilised labels like "Made in Manchester" to advertise the British-made textile in the Indian market.
The Rise Of Nationalism In Europe Notes
Flowchart of The Age of Industrialization Class 10 Notes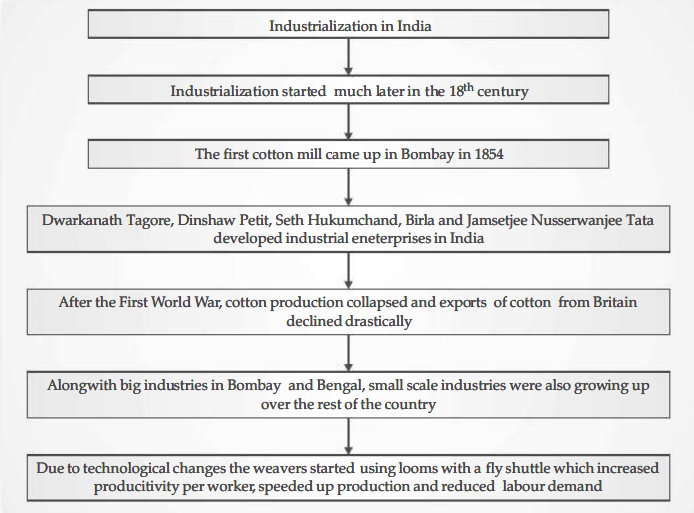 Important Terms of The Age of Industrialization Class 10 Notes
Fuller : A person who "fulls," or gathers fabric through pleating.
Stapler : A person who "staples" or arranges wool by fibre.
Sepoy : An Indian serving as a soldier for the British.
Dyer : A person who colours textiles.
Jobber : A somebody who works with manufacturers to find fresh workers for the mills.
Carding : The procedure used to prepare fibres like cotton or wool before spinning.
Entrepreneurs : an individual who makes money creating or running enterprises, particularly when doing so requires taking financial risks.
Guild : A group of merchants or craftspeople who practise the same trade. These guilds oversaw the calibre of the work and product while defending the rights of their members.
Metropolis : A sizable, densely populated city in a nation or state that frequently serves as the region's capital
Vagrant : A person without a work or a place to live, particularly one who begs.
Fly Shuttle : It is a mechanical weaving machine that is propelled by pulleys and ropes. It inserts the weft, or horizontal threads, into the corresponding vertical threads (called the warp).
Nationalism in India Notes
Important Dates of Terms of The Age of Industrialization Class 10 Notes
1854 : In Bombay, the first cotton mill was built.
1855 : In Bengal, the first jute mill was built.
1856 : Bombay's first cotton mill began operating.
1863 : Operation of the London Underground Railway began.
1874 : Madras's first spinning and weaving mill started operating.
1900 :A music book was created by music publisher E.T. Paull.
1912 : The first iron and steel plant in India was established in Jamshedpur by J.N. Tata.
1917 : A Marwari trader named Seth Hukumchand founded the first jute factory in India in Calcutta.
Conclusion of The Age of Industrialization Class 10 Notes
Thank You for ReadingThe Age of Industrialization Class 10 Notes .I Hope the Chapter The Age of Industrialization Class 10 Notes PDF Solution Created by Cbsemeterials.com Team May Found Helpful for Your Class 10 Exam Preparation. If Found Any Error or Suggestion Please to Let Us Know