Hello Guys My Name is Ayan From CBSEMeterials – Free CBSE Study Meterials and Today I am going to share The Rise of Nationalism in Europe Class 10 Notes [Part 2] For Free and Which Helps you in Getting Good Marks in CBSE Class 10 History Chapter 3 .You can also download The Rise of Nationalism in Europe Class 10 Notes PDF For Free of Cost.So without further ado, let's get to the Class 10 Summary of The Rise of Nationalism in Europe Class 10 Notes [Part 2]
Others Parts of The Rise of Nationalism in Europe Class 10 Notes
Quick Review of The Rise of Nationalism in Europe Class 10 Notes [ Part 2]
In many parts of Europe, including the states of Italy and Germany, the Ottoman Empire's provinces, Ireland, and Poland, liberalism and nationalism came to be associated with revolution.
France saw the first uprising in July 1830.
Another occasion that stoked nationalist sentiments among the educated elite in Europe was the Greek War of Independence.
The idea of the nation was greatly influenced by culture. Nationalist sentiments were expressed and shaped through art, poetry, tales, and music.
A distinct brand of nationalism was to be developed through the romantic movement in culture.
Language also had a significant impact on the emergence of nationalist attitudes.
Europe saw poverty, a terrible harvest, and rising prices in the 1830s. Along with the destitute, hungry, and unemployed peasants, even middle-class educated people revolted.
Many political organisations gathered in Frankfurt in 1848 and decided to cast their votes for an all-German National Assembly.
The subject of giving women political rights became contentious.
In 1848, conservative forces were successful in putting down liberal uprisings, but they were unable to reinstate the status quo.
Nationalism in Europe began to disassociate itself from its associations with democracy and revolution after 1848.
Flowcharts of The Rise of Nationalism in Europe Class 10 Notes [ Part 2]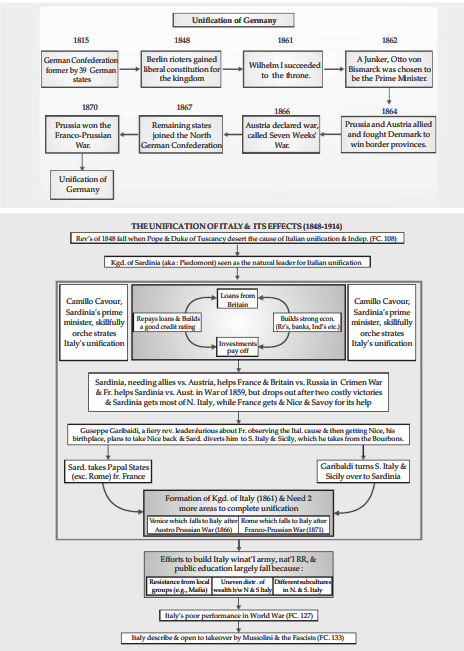 Important Terms of The Rise of Nationalism in Europe Class 10 Notes [ Part 2]
Romanticism: A cultural movement that eschewed logic and reason in favour of feelings and intuition. The romantics were interested in fostering a feeling of shared cultural heritage and a common history in order to inspire nationalism.
Revolutionaries: Supporters of liberalism who rebelled against the 19th-century conservative administrations.
Feminism: Feminism is the understanding of women's rights and interests based on political, economic, and social gender equality.
Frankfurt Parliament : In the city of Frankful, numerous political organisations made up of businesspeople, professionals, and wealthy artisans gathered together and decided to cast votes for the entire German National Assembly. The Frankfurt Parliament met at St. Paul's Church on May 18, 1848, and 831 elected delegates marched in a joyous procession to assume their seats. Based on the Constitution monarchy system, they developed a constitution.
Nationalistic Feeling (1830s) : The awareness that society and the country are "we" with all of its members sharing many characteristics. The shaping and expression of nationalistic sentiments and of the nation were greatly influenced by culture, including art, poetry, storytelling, and music.
Personalities The Rise of Nationalism in Europe Class 10 Notes [ Part 2]
Louise Otto-Peters : A political activist who started a feminist political association after starting a women's periodical.
Carl Welcker : A member of the Frankfurt Parliament named Carl Welcker had strong opposition to women's equal rights and mocked their demands as being against nature.
Important Dates of The Rise of Nationalism in Europe Class 10 Notes [ Part 2]
1830 : France saw the first uprising in July 1830.
1830 : European Economic Crisis Period
1848 : Frankfurt National Assembly voting by Germans
Thank You for Reading The Rise of Nationalism in Europe Class 10 Notes [ Part 2] I Hope the Chapter The Rise of Nationalism in Europe Class 10 Notes PDF Solution Created by CBSEMeterials.com Team May Found Helpful for Your Class 10 Exam Preparation. If Found Any Error or Suggestion Please to Let Us Know